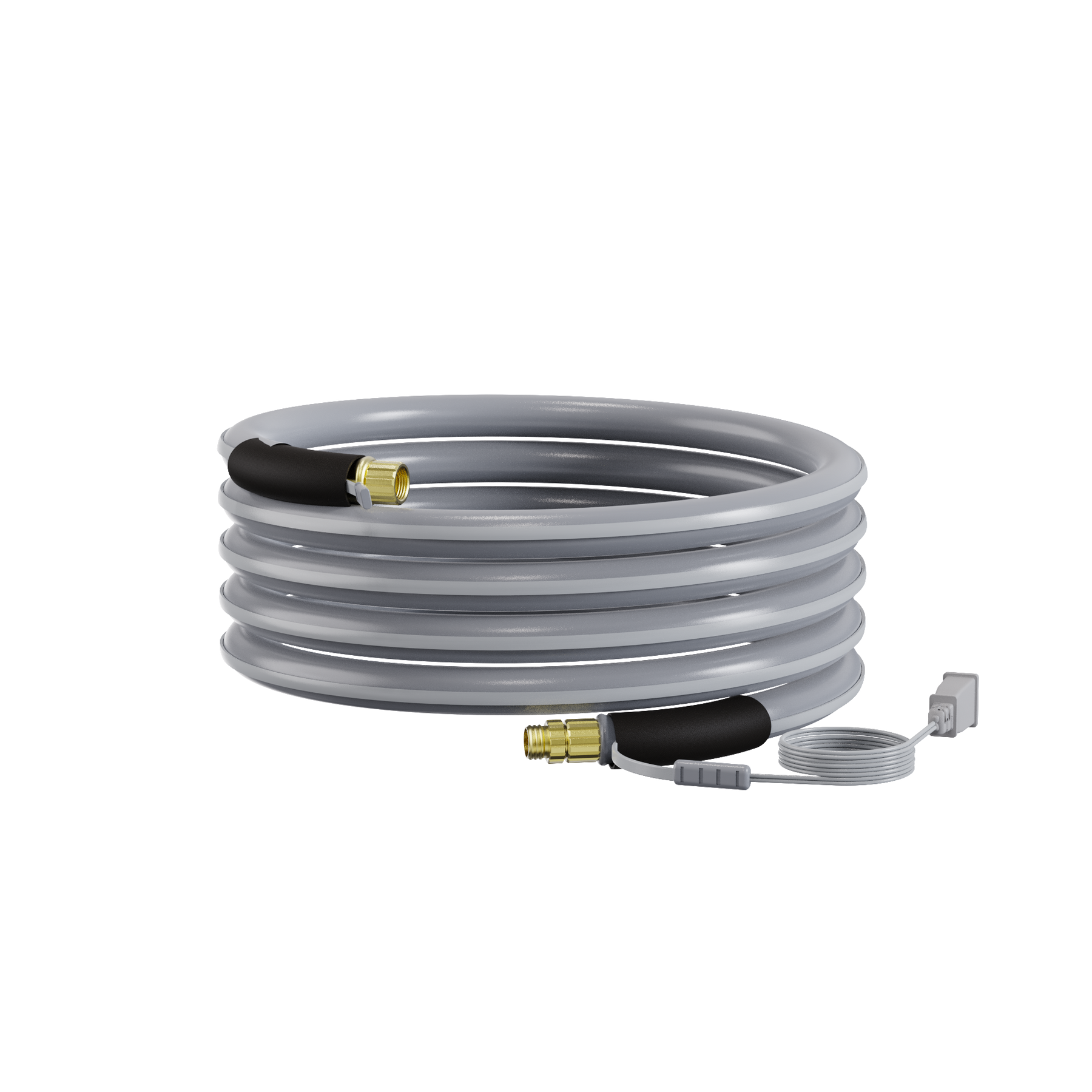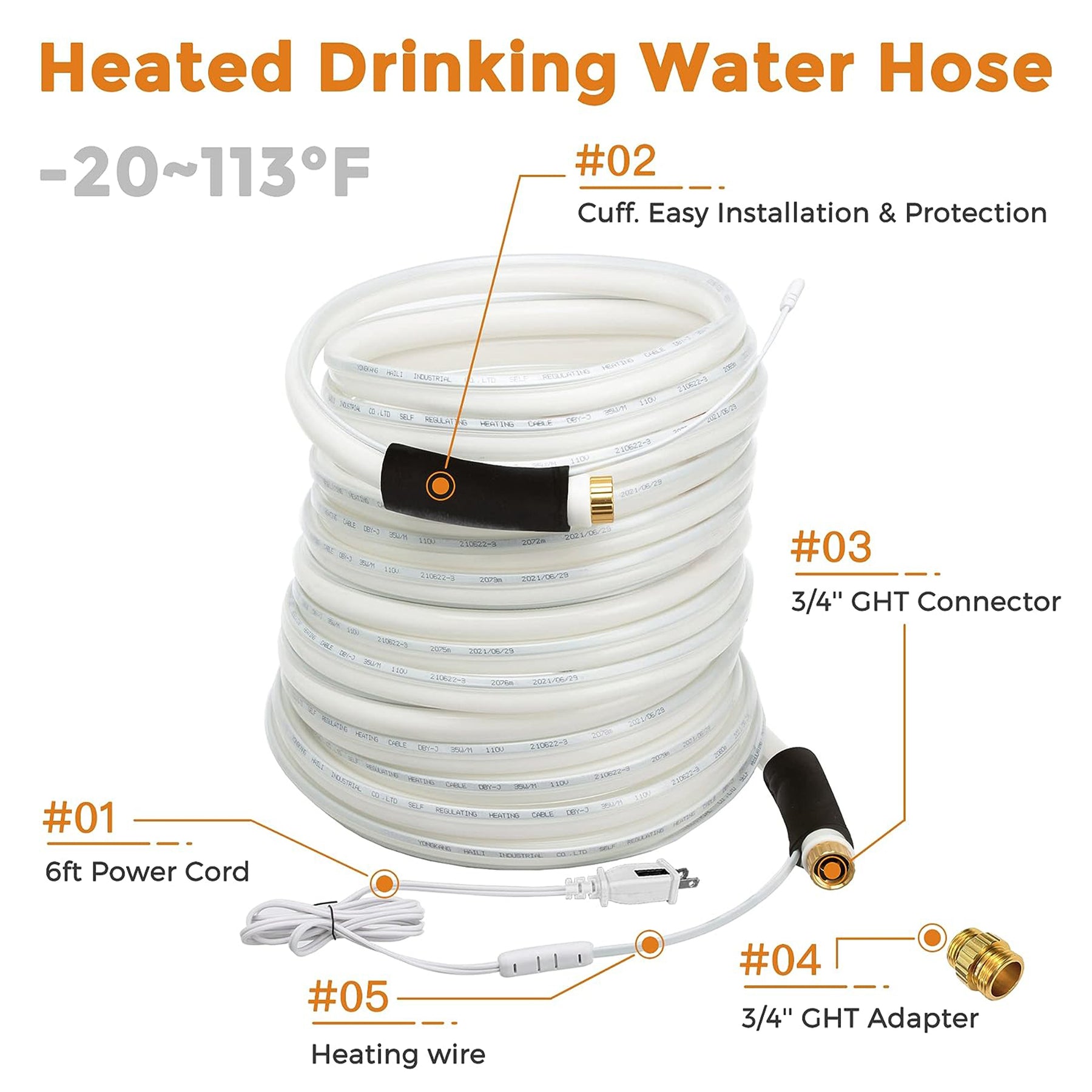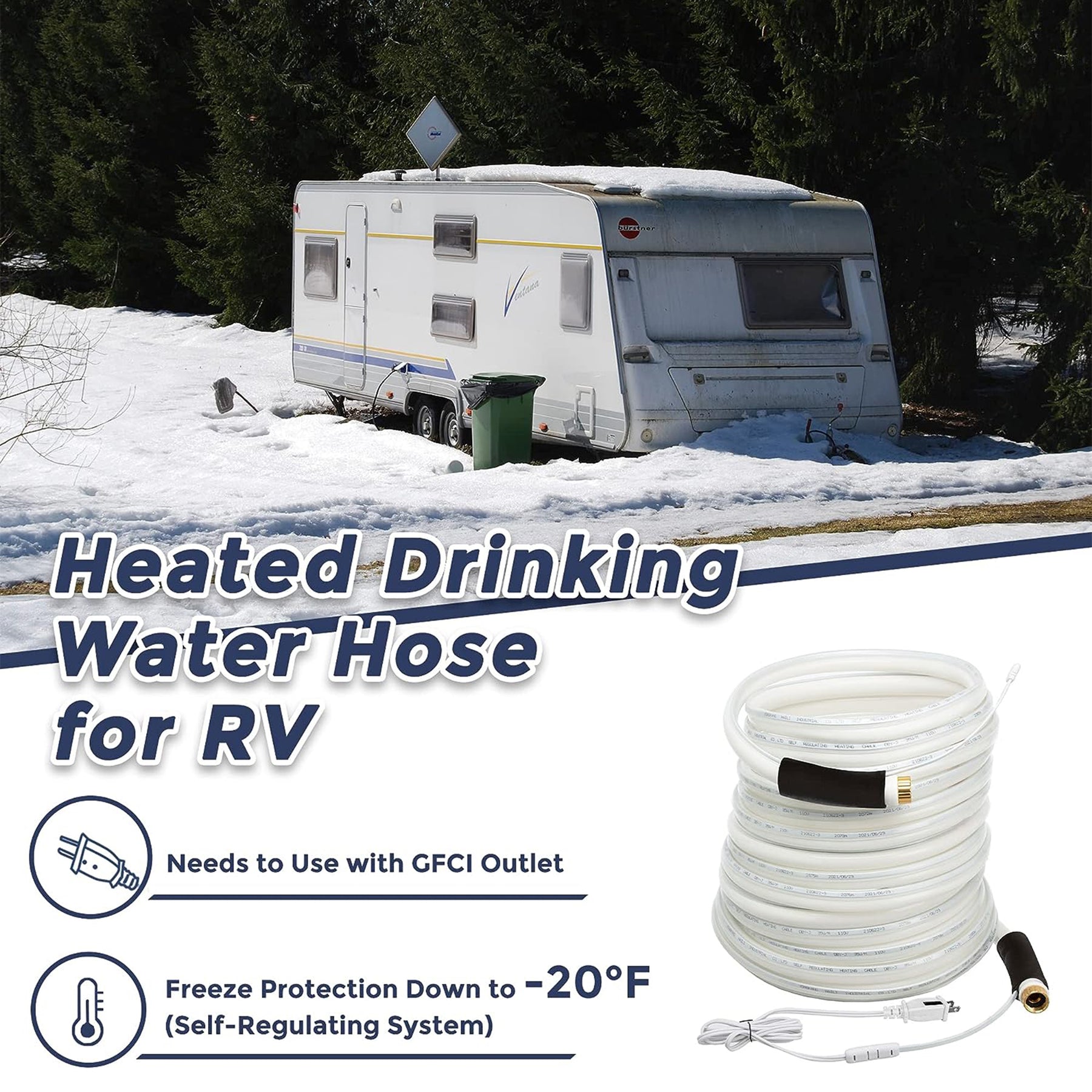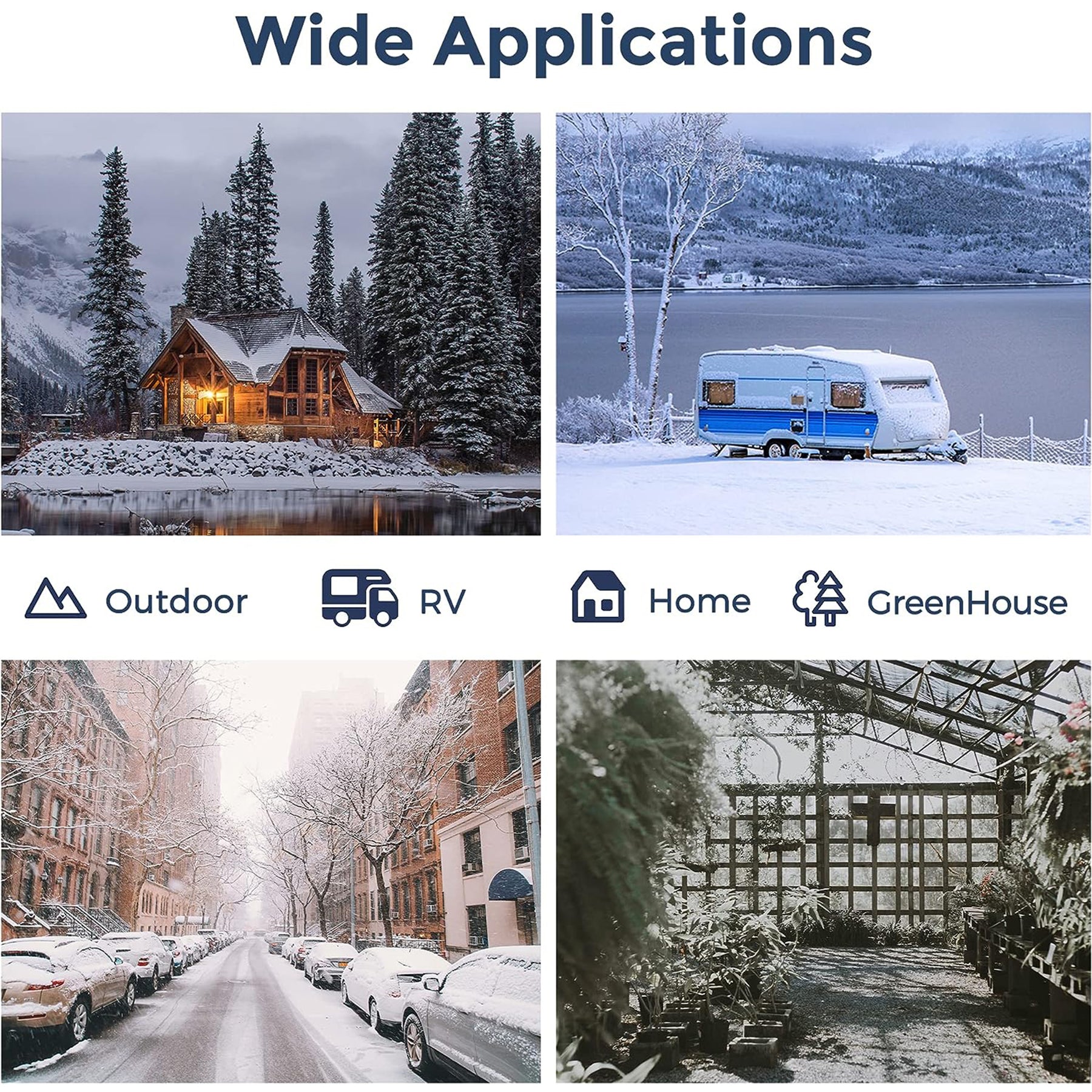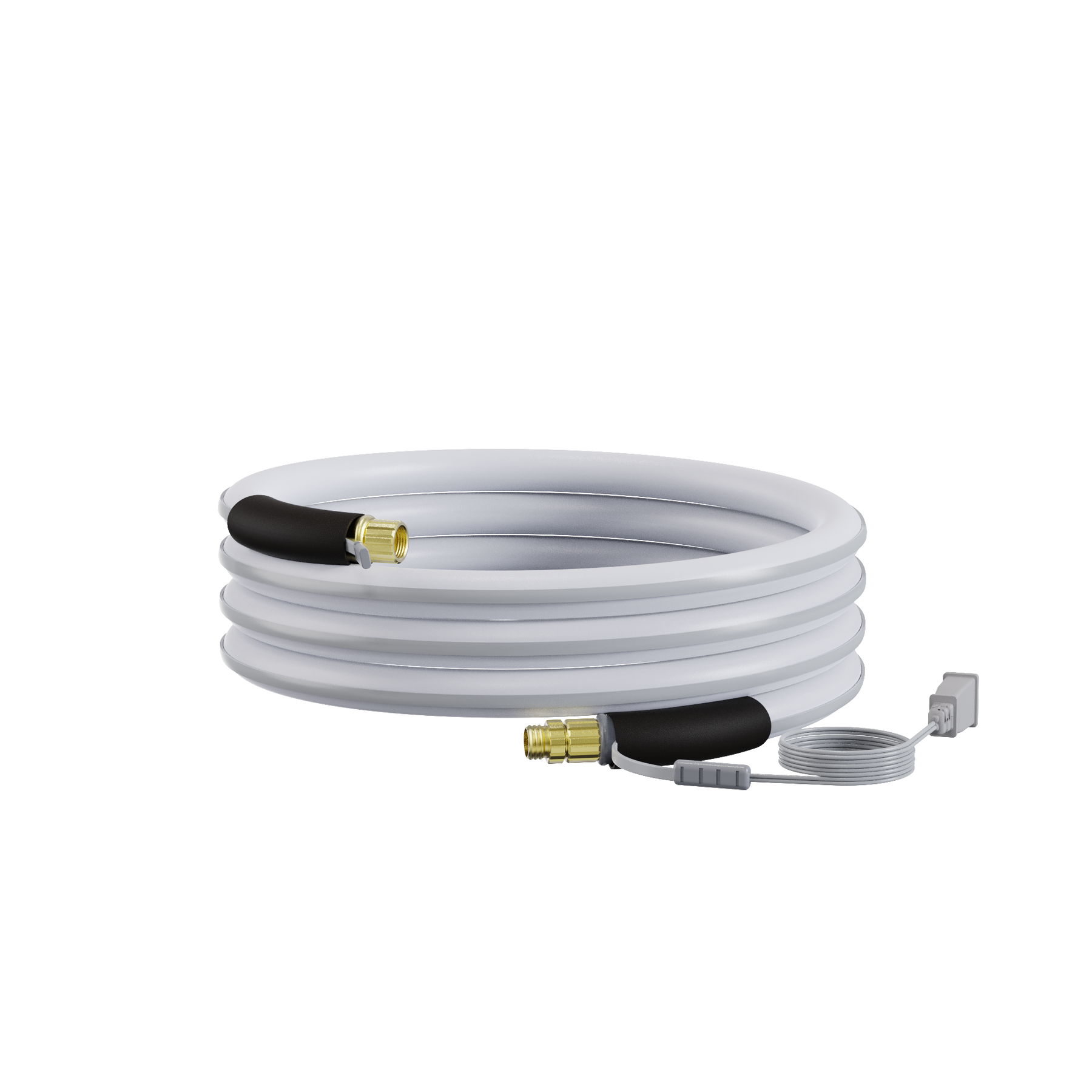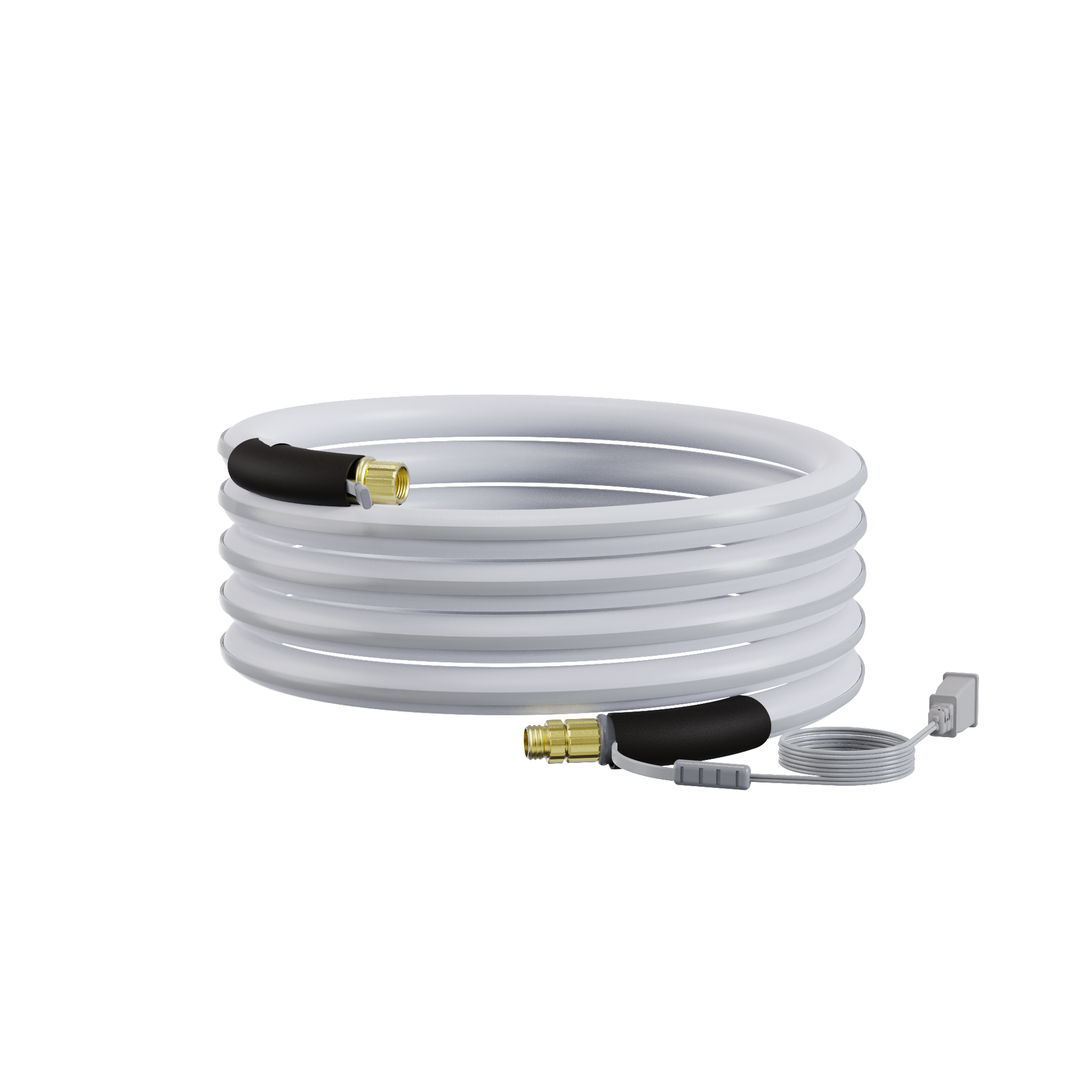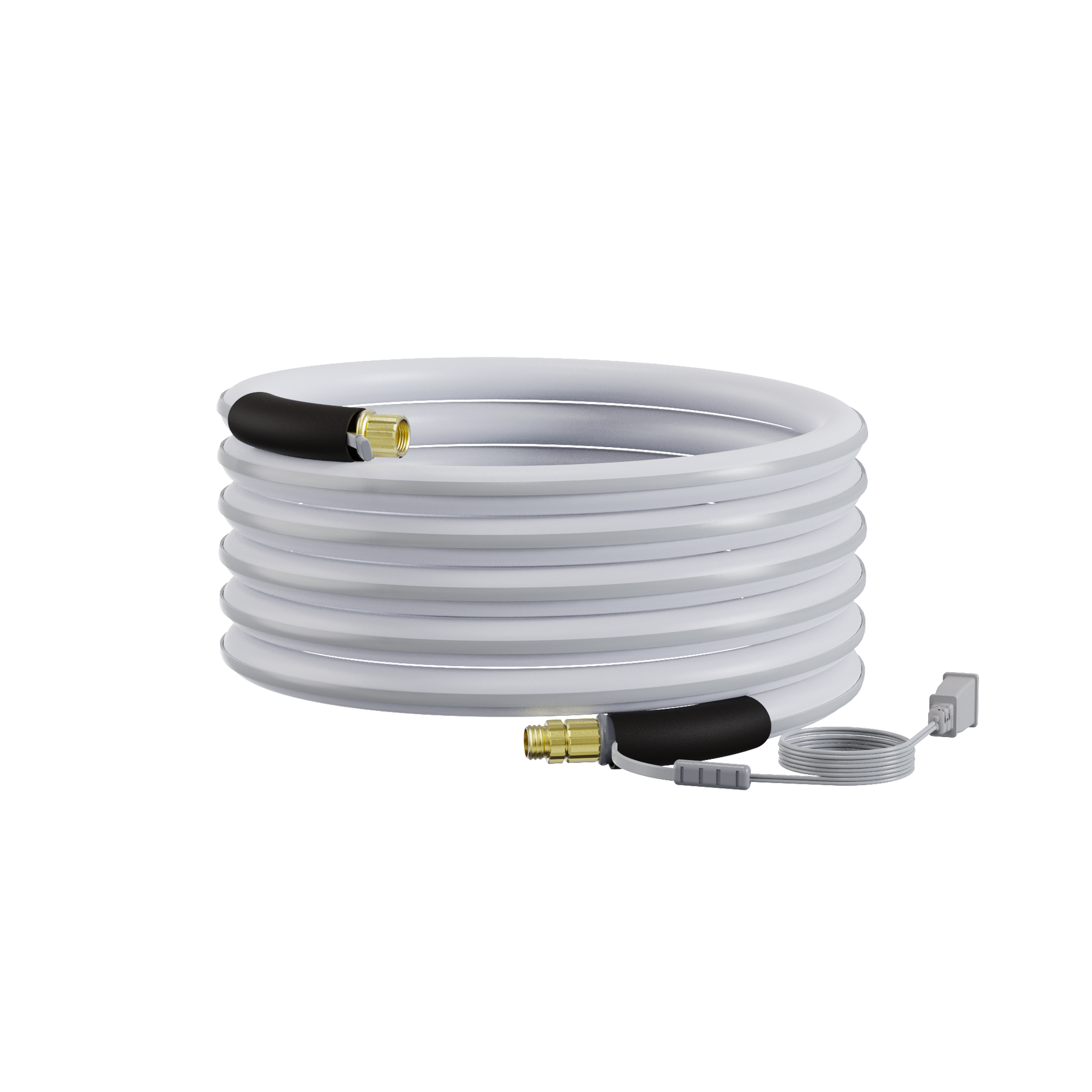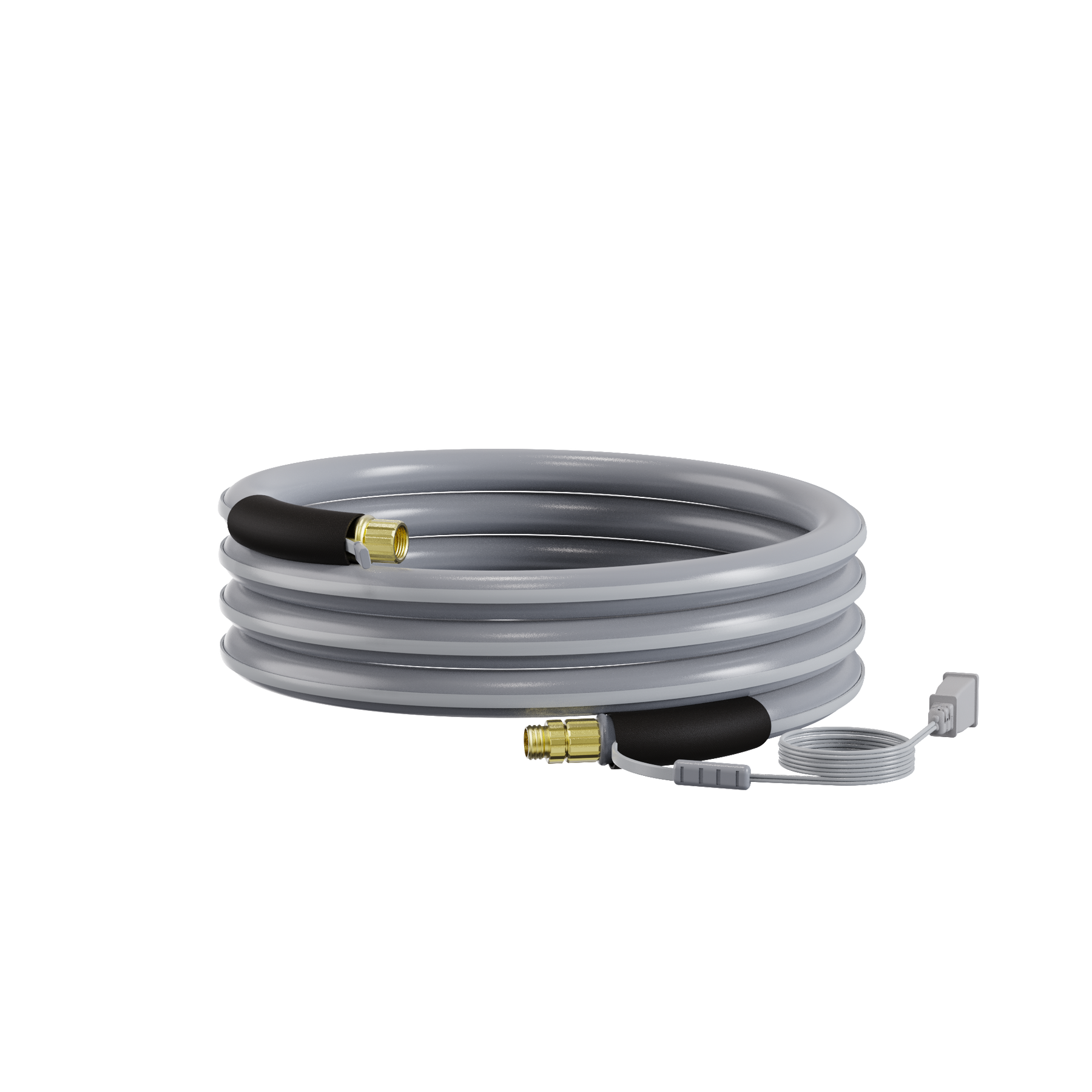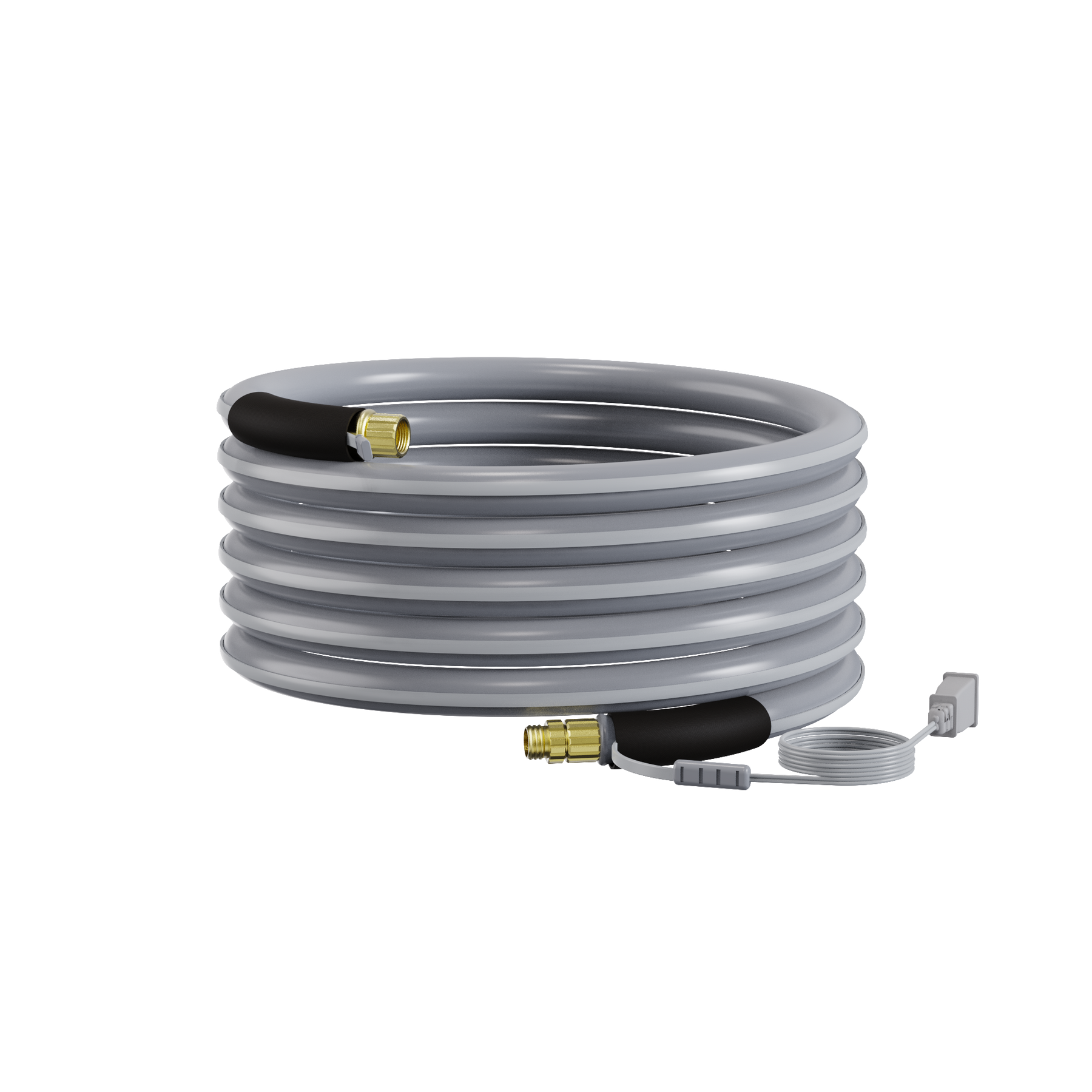 Heated Water Hose 15ft-50ft
White Heated Water Hose can withstand down to -20℉; Grey Heated Water Hose can withstand down to -40°F.
Ideal for water line freeze protection, self-regulating heat source allows water to flow smoothly in temperatures down to -20 degrees F (-28 degrees C).
Made of drinking water safe material for safe use. 3/4" lead-free brass garden hose fitting (GHT) prevents leaks and will not cause odors.
Includes double male adapter(GHT) to allow hose connect to the RV or campground power supply as desired.
Durable exterior jacket protects plumbing and electrical components from damage or exposure.
Need to use with an external ground fault circuit interrupter (GFCI) outlet, which will help prevent overheating due to short circuits.
Heated Water Hose
Bringing warmth throughout the winter
Lead Free | BPA Free | Sulfate Free | No Leaking | No Freezing | Energy Saving
Upgraded Hose, Convenient and Reliable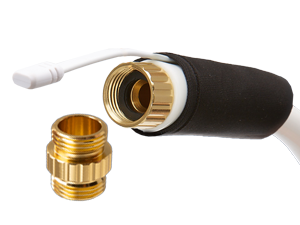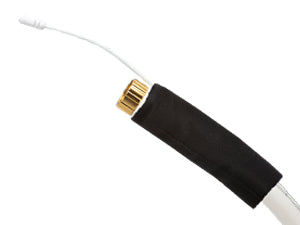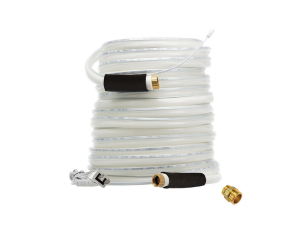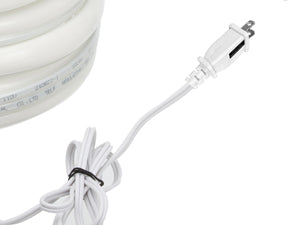 Solid metal fitting, 3/4" standard thread with double male adapter. No leaking with a rubber washer.
Wrapped with Velcro cuffs for an insulated connection to ensure smooth water intake.
The heating cable is separate from the hose, making it safe for use with drinking water.
Use the plug with an external GFCI outlet to prevent overheating from short circuits.
Different Colors for Varied Cold Conditions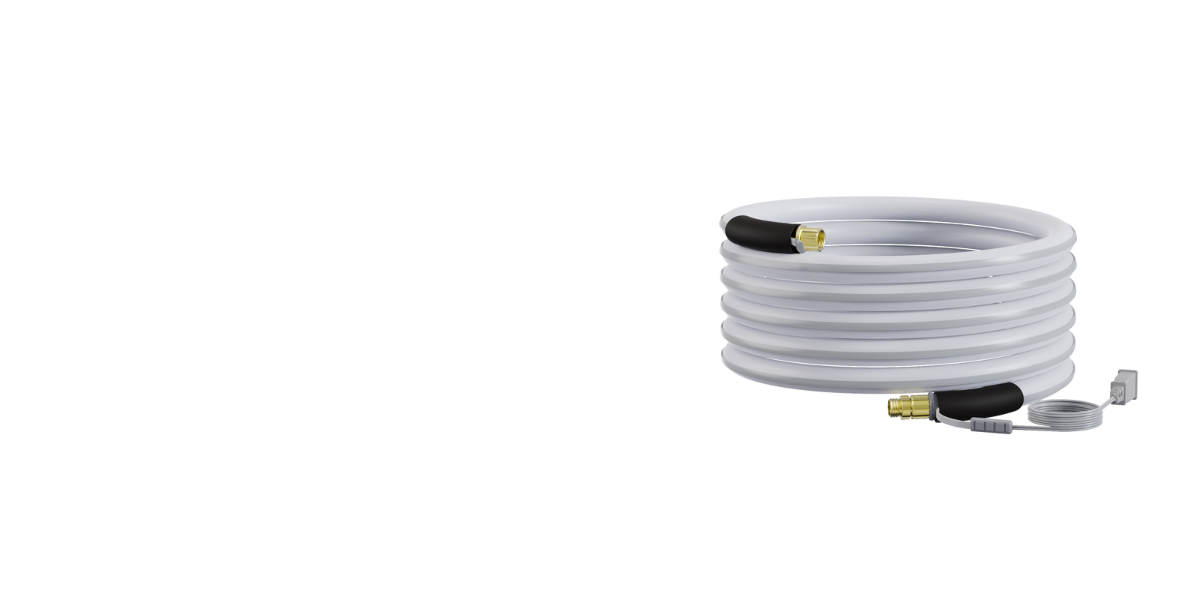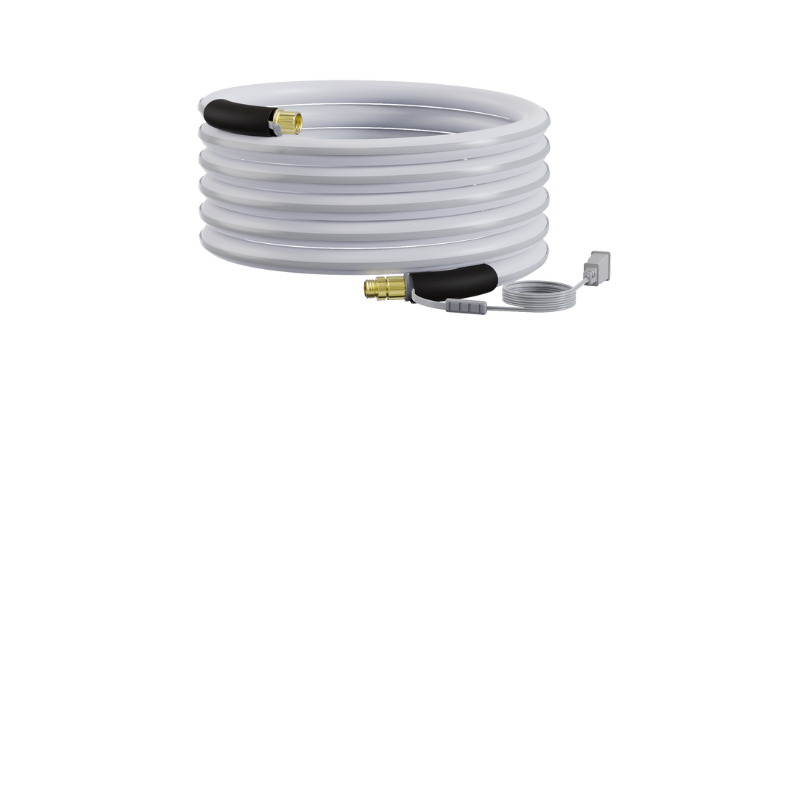 Heated Water Hose, Grey
Safe water supply in cold weather down to -20°F (-28°C)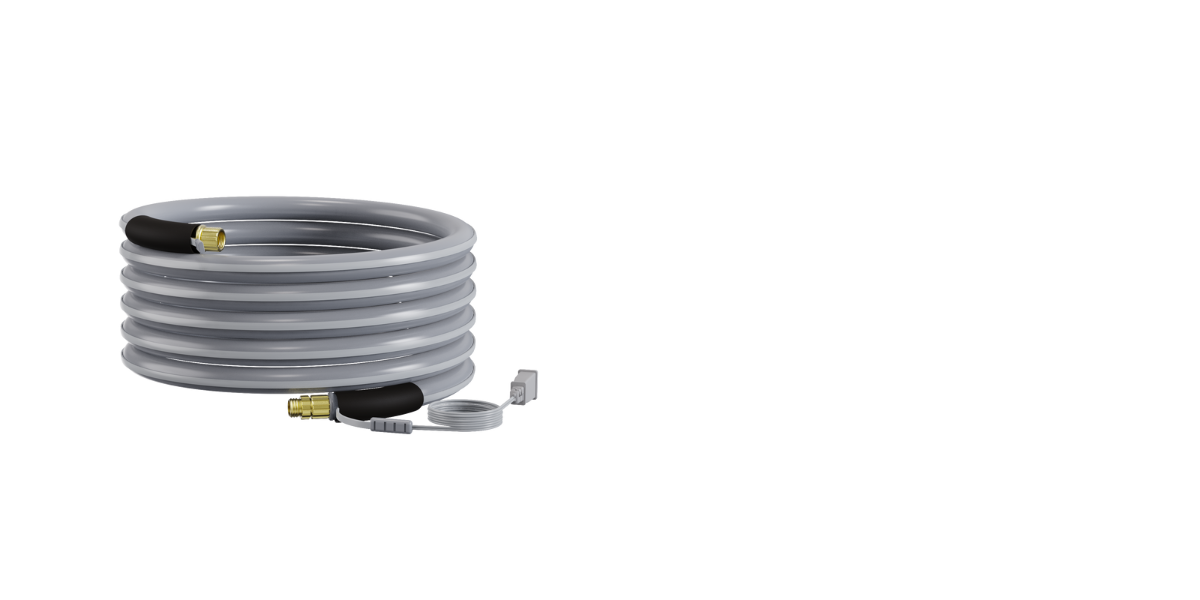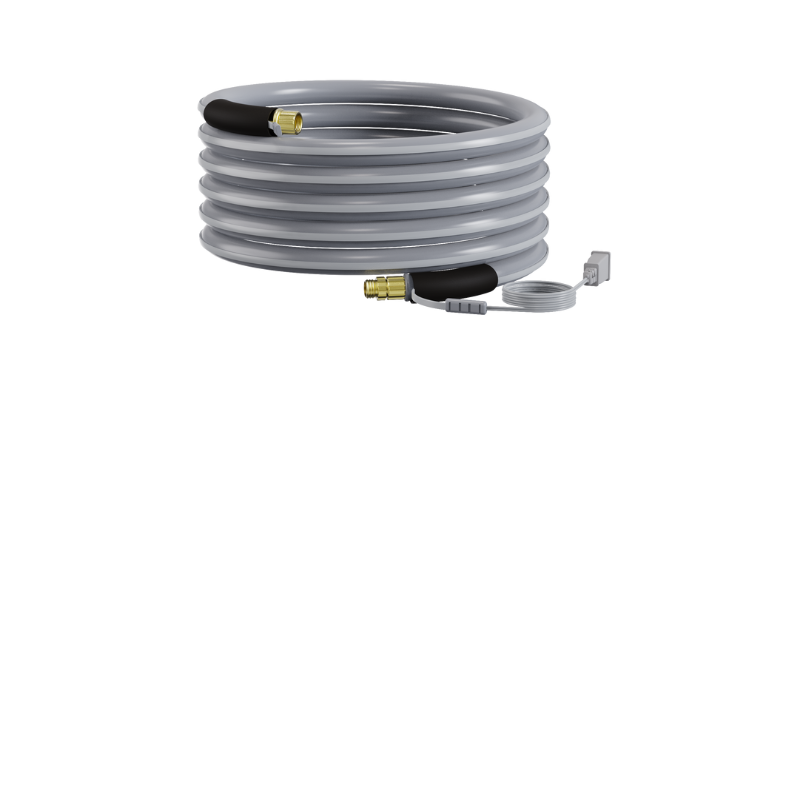 Heated Water Hose, Grey
Safe water supply in cold weather down to -40°F (-40°C)
Equally Wide Application Scenarios
Safe use for RVs, campers, livestock, agriculture, kennels and other industrial, commercial and residential uses.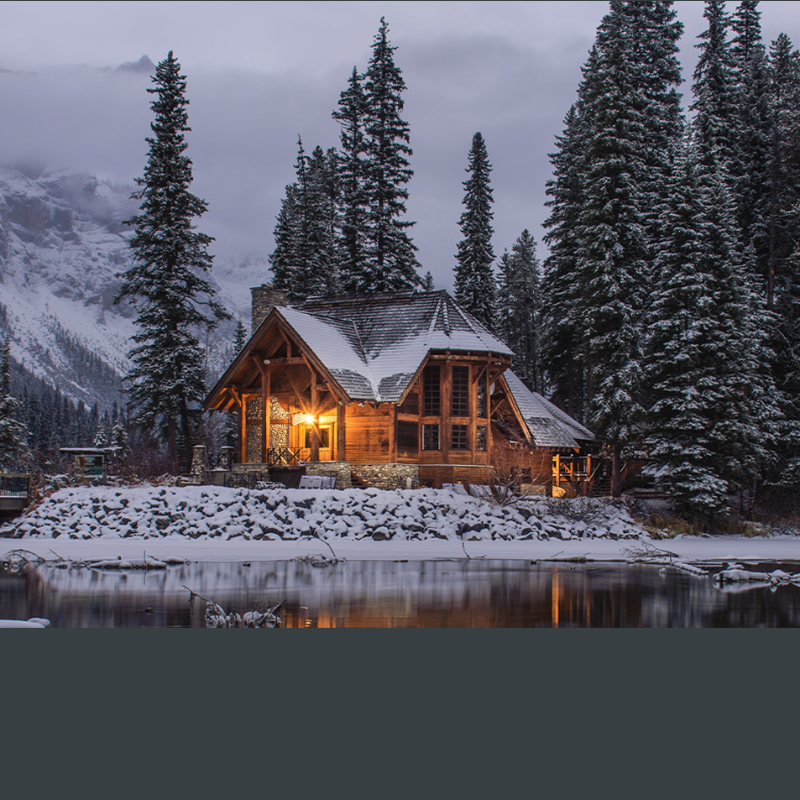 Outdoors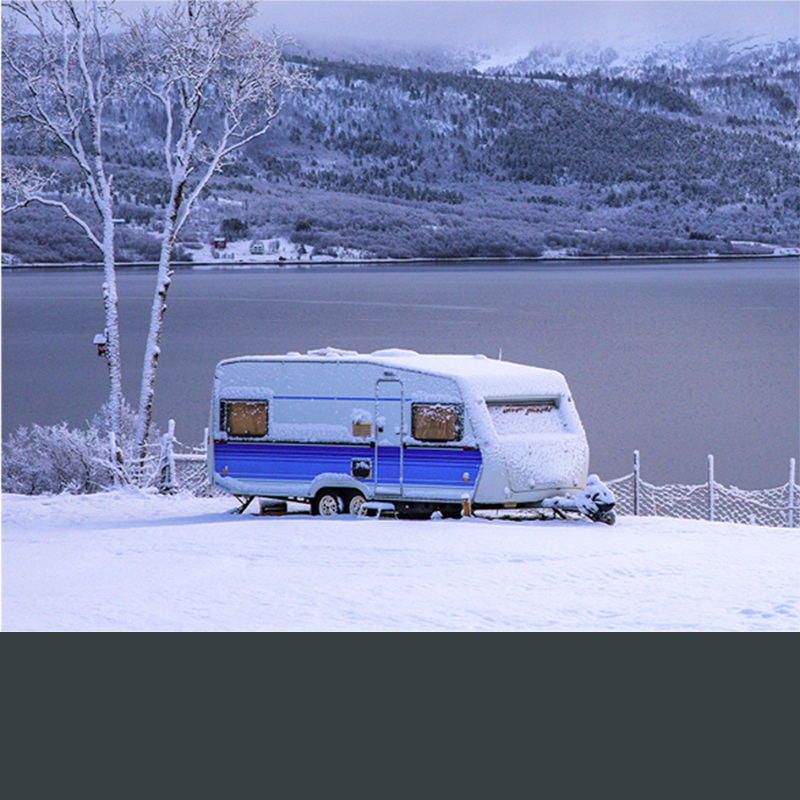 RV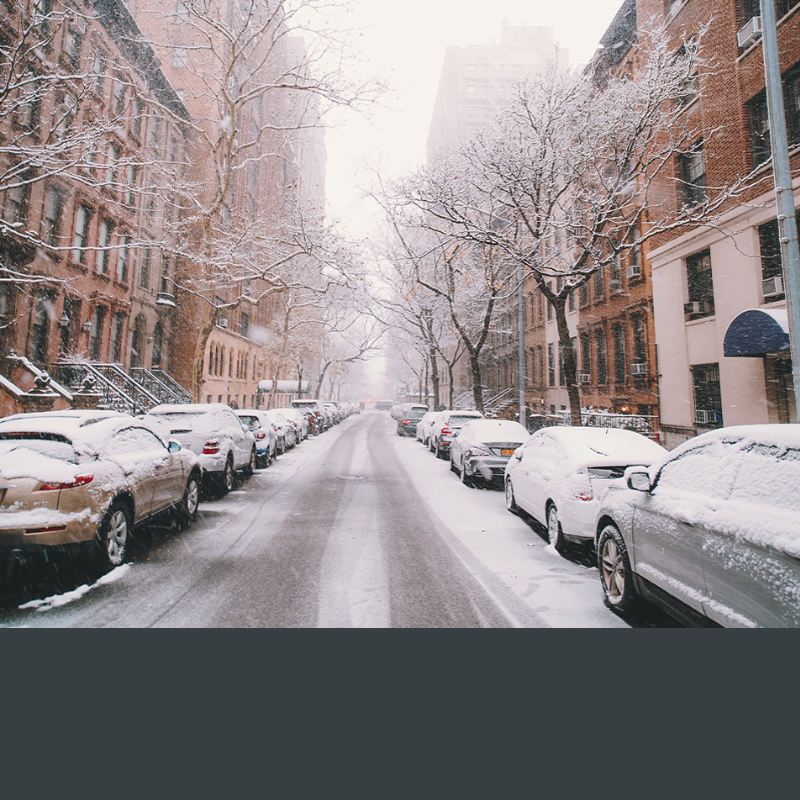 Home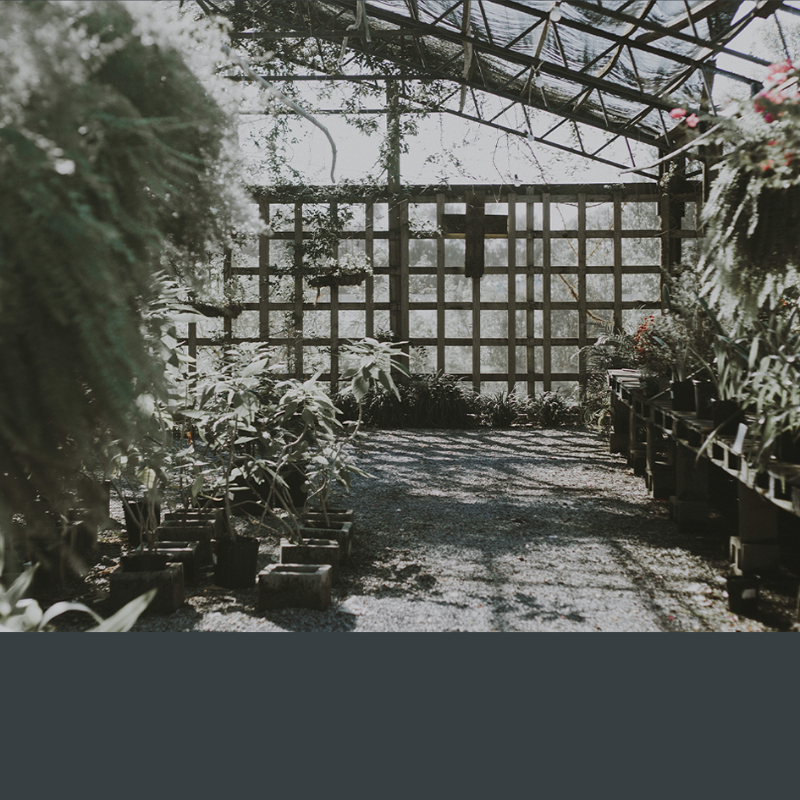 Greenhouse
Specifications
Model Name
Heated Water Hose
SKU
NSF-15W / NSF-25W / NSF-50W / NSF-H15W / NSF-H25W / NSF-H50W
Length
15ft / 25ft / 50ft
Power
15ft: 160W / 25ft: 267W / 50ft: 533W
Maximum Working Pressure
8 bar
Working Temperature
White: -20-113°F / Grey: -40-113°F
Shipping is free in the US for all products
Processing Time
We accept orders online, 24 hours a day, 7 days a week. and always working to ship your order as quickly as possible.
Orders will start shipping within 3 business days excluding the time of pending availability and credit verification.
Orders placed after 12 AM EST will begin processing the next business day. Process time does not include Saturdays, Sundays, or holidays, pending credit verification.
Shipping Time
In-stock products are usually delivered within 3 business days of being shipped unless otherwise noted on the product page.
Pre-order products and gifts will be shipped separately after they arrive at the local warehouse.
Accessories will be shipped separately, and some might take 2-3 weeks according to the shipping time written on the product page.
Shipping time will vary depending on where you live. If you need expedited shipping, please select "Express Shipping" on the checkout page.
Delivery time includes processing time and shipping time.
Shipping Regions
Currently, Hawaii and Alaska are not offered to ship.
U.S. West shipments are shipped from the CA warehouse
U.S. East shipments are shipped from the NJ, PA, or NC warehouse.
Delivery Addresses
Giraffe Tools cannot deliver shipments to PO Boxes, or APO/FPO addresses.
Edits to Paypal addresses cannot be completed after an order has been placed using Paypal, so please double-check the address saved in your Paypal profile.
Shipping Method
Orders within the 48 states will be shipped via USPS, UPS, or FedEx.
Order Tracking
Option 1: You will receive a shipping confirmation email with tracking details when the order ships. Please click the "tracking number" which will take you to the carrier's website to get tracking information.
Option 2: Log in to your account on the official Giraffe Tools website and click on "Order Tracking" located below the "Support" menu. After filling in the order number and email, or logistics tracking number, you can get real-time logistics information.
After Delivery
Our products are shipped nearly fully assembled and come with installation instructions, if you have any other needs, feel easy to contact us :)
Return PolicyReturn & Refund Policy of www.giraffetools.com
You may initiate a return by emailing the reason for your return, your order number GTUSxxxx, and your name to contact@giraffetools.com. If it is unused and you just don't want it, please tell us the reason in the email and we will refund you as soon as possible. (excluding return shipping charges, if applicable)
Defective/Damaged/Incorrect Items: customer satisfaction is our priority. In the rare event, you receive a defective, damaged, or incorrect item, please contact our contact@giraffetools.com with order number GTUSxxxx and a video/photo about the problem. We will be in contact with you to address and resolve the issue as quickly as possible. (free replacement and free freight charge, or a full refund, if applicable)
If you are not happy with your purchase, we will accept a return of an unused product within 30 days. Once we receive the returned item, Giraffetools will then give a full refund.
Please allow 1 week for your return to be processed.Refunds will be processed by giraffetools on every Friday. It can then take up to 48 hours for money to credited by the bank into the customer account. Giraffetools will not issue refunds for products purchased through other entities, such as distributors or retail partners.Returned items must be delivered to us unused, in original packaging and in the condition they were received, or they may not be eligible for refund or be subject to a restocking fee. We cannot be held responsible for items damaged or lost in return shipment, therefore we recommend an insured and trackable mail service.We are unable to issue a refund without actual receipt of the item(s) or proof of received return delivery.We aim to accept all returns. In the unlikely event that an item is returned to us in an unsuitable condition, we may have to send it back to you. All goods will be inspected upon return.
At Giraffe Tools, we conduct rigorous testing on every machine before it leaves the factory and perform a lifetime test on every thousand machines to ensure they will withstand many years of use beyond the warranty period.
In addition to our thorough testing, we offer a 24-month warranty on all original Giraffe Tools new products. The following specifics apply:
Giraffe Tools warrants its products against defects in parts and materials for a period of 24 months from the original purchase date. Please note that this warranty does not apply to products acquired second hand.
All warranty periods commence on the date of purchase and are non-transferable.
The warranty is limited to the provision of a replacement or refund free of charge within the specified period, provided that the above conditions are met, and the original proof of purchase is presented.
For quality-related warranty claims, items will be replaced with a new item of equal value when available. In situations where a replacement is not available or preferred, Giraffe Tools will offer a full refund.
Warranties on all replacements follow the same 24-month warranty time frame as the original defective item. Warranties on fully refunded products will be voided.
Process:
Buyers must provide sufficient proof of purchase.
Giraffe Tools must document what happens when buyers troubleshoot the product.
Visible proof depicting the defect, such as pictures or videos, is required.
It may be necessary to return an item for quality inspection.
For defective items that Giraffe Tools needs to have returned, warranties on those replacements are voided if the wrong item is returned to Giraffe Tools or if the defective item is not returned.
Valid proof of purchase:
Order number from online purchases made through Giraffe Tools or Giraffe Tools's authorized resellers.
Sales invoice that shows a description of the product along with its price.
Not Covered Under Warranty:
Purchases from unauthorized resellers.
Alterations not carried out or authorized by Giraffe Tools authorized resellers.
Products without sufficient proof of purchase.
Second-hand products.
Items that have expired their warranty period.
Damage from misuse of products, including, but not limited to, improper storage, falls, extreme temperatures, water, and improper operation of devices.
Authorized Resellers and Distributors:
Currently, the official channels we support for after-sales service and 2-year warranty are limited to Official 
Giraffe Tools Store on
 Amazon/Official website/lndiegogo/Walmart/SHEIN
Region
Official channel
Warranty covers purchases from
US
giraffetools.com
  Giraffe Tools
CA
UK
US
amazon.com
Giraffe Tools
GT Garden&Tools
US
walmart.com
Giraffe Tools
US
wayfair.com
Giraffe Tools
CA
amazon.ca
Giraffe Tools
GT Garden&Tools
UK/IE
amazon.co.uk
Giraffe Tools EU
GT Home
DE
amazon.de
Giraffe Tools EU
GT Home
FR
amazon.fr
Giraffe Tools EU
GT Home
ES
amazon.es
Giraffe Tools EU
GT Home
IT
amazon.it
Giraffe Tools EU
GT Home
PL
amazon.pl
Giraffe Tools EU
GT Home
NL
amazon.nl
Giraffe Tools EU
GT Home
SE
amazon.se
Giraffe Tools EU
GT Home
BE
amazon.com.be
Giraffe Tools EU
GT Home
TR
amazon.com.tr
Giraffe Tools EU
GT Home
*If you find a current lower price on an identical in-stock item from another local retailer, we'll match the price at the time of purchase. Just bring the ad, printout, or photo and show an associate so we can validate the price on the competitor's website or ad to complete the price match.